Hello all my Creepy Crafty Buddies!! Welcome to Day 4 of our Halloween week filled with awesome projects and YUMMY blog candy! E
veryday I will have my DT and Guest DT showing you some amazing Halloween projects and EVERYDAY we will have a fabulous prize to give away!! If you haven't gotten to see the rest of the projects for this week you can see them by clicking the links.
Are you ready to see what AWESOMENESS you can win today!? For our Blog Candy today we are going to give away and ultimate sampler pack from The Twinery!! Whoo hoo! This is the bestest Twine out there! I love love it and I know you will love it too!!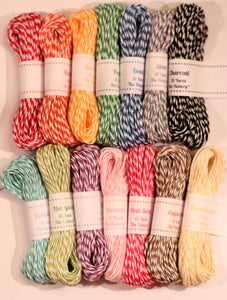 So now on to the craftyness!! For my project today I decided to create some spooky Halloween home decor! I made this super cute and fun Halloween wreath! I am just loving the flowers, I made them with my new Flower Shoppe cartridge!
Here is a close up of the Banner, I used the sentiment from my Totally Witchin stamp set and some awesome Twiner Twine in Stone. I have been seeing so many cute banners and I thought I would try one in mini scale at first lol I think I am ready for a big banner!
Here is a close up of the flowers! I just LOVE this cartridge the flowers came out so pretty and they were easy to make, which is always awesome! I just love this paper too from DCWV!
What do you think about my wreath? I am so happy with the way it looks and I just hung it on the door I am so proud of it hehe!
Now on to my DT and guest DT's Fabulous projects!
This set is beyond awesome!
I love the bags too cool!
Isnt this the most adorable Halloween card ever!
Happy Birthday Girly!! Check out her aweome projects using "Totally Witchin"
I am totally in love with this treat box and the goodies inside mmm chocoalate lol!
Super super cute projects ladies! I want to thank all of you for all the amazing projects you created this week! I also want to thank all of you bloggers that have joined us this week I am loving all your sweet comments!
Today is a new challenge for us too! The theme is ANYTHING Halloween!! be sure to link up for your chance to win 2 paper stack from DCWV!! You will have until next Friday to link up your projects. I cant wait to see all your Fabulous Spooky Projects!